How many gallons of water does it take to produce one pair of jeans?
1800 Gallons adds life and value back into the previously discarded by reimagining deadstock and upcycled denim one piece at a time from a small Brixton based studio. Shop from a core selection of silhouettes and alter to fit your own custom measurements, denim wash choice or topstitch colour.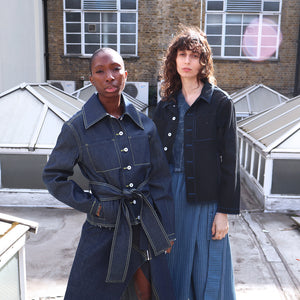 Permanent Silhouettes. Limited Colourways.
At 1800, we want to build fashion made to last. The core collection will house our permanent shapes intended to last season after season. Due to the nature of our sourcing, colourways are limited and may only be available for a very small run or even a one-off! With denim we will match as closely as possible but irregularities between pieces are unique and dare we say it, part of the charm!
Elongating the life cycle of textiles
We produce almost solely from pre-existing fabrics that would otherwise go to waste.
Deadstock fabrics - Surplus fabrics from mills/factories/bigger designers. Rather than creating demand for new fabrics or commissioning our own we like to use an already existing source.
Repurposed/Upcycled fabrics - Sourced from vintage fairs, friends, family and our own wardrobes even! Denim particularly, has a lot of life in it and can be refashioned from unwanted clothing into new styles. Find out how you can donate your old denim and receive a little discount in return!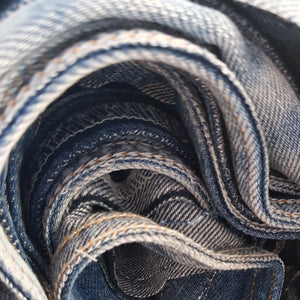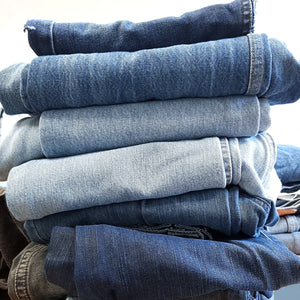 1800 Gallons
It reportedly takes 1800 gallons of water to grow the cotton for just one pair of jeans. With almost 8 billion feet of denim being manufactured each year that is a lot of water soaked up by apparel. As water shortages become more and more common globally, we feel it is important to take responsibility and tackle non-essential water consumption with our business.